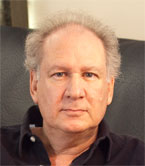 Robert J. Balaban, M.D., a physician and psychiatrist, also has a post graduate degree in psychology from the New School for Social Research, where he studied personality theory. As an adult psychotherapist and psychopharmacologist with extensive experience, Dr. Balaban has been a clinician and teacher including being on the clinical faculty of the University of Wisconsin, and Harvard Medical School. Dr. Balaban integrates several healing psychotherapies which he has learned through intensive training with some of the most influential and skilled therapists in the United States and Europe.
Dr. Balaban's philosophy is to address various aspects of a person's well being including physical, psychological and spiritual dimensions. Dr. Balaban has been trained in many approaches to psychotherapy including psychodynamic, mind/body medicine, EMDR, neurolinguistic programming, focusing, meditation, and guided imagery. In addition to psychotherapy, Dr. Balaban provides medication evaluation and management.
Having the option of integrating numerous techniques that facilitate healing, allows Dr. Balaban to collaboratively address each individual's unique needs. Gene Gendlin, Ph.D., the founder of Focusing, states that each person knows their "own forward direction". It is important to respect the deep knowledge and intuition that each person holds within their being. Dr. Balaban believes in approaching therapy collaboratively, respecting the personal history and specific goals of each person.